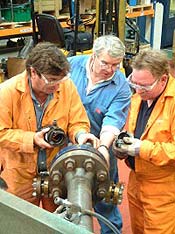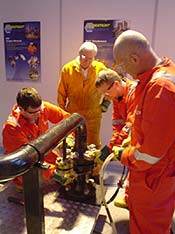 Power Products Sales and Service, Inc.
Hydratight Sweeney is an Engineering Construction Industry Training Board (ECITB) accredited company offering a comprehensive range of training courses aiming to enhance and standardise the knowledge within the bolting industry.
Knowing that 20% of recorded joint leaks have been attributed to lack of competency or use of inappropriate or incorrect procedures, Hydratight Sweeney instigated the Assembly and Tighteneing of Bolted Flange Connections training course, which was subsequently adopted by the ECITB under the National Skills Development Scheme (NSDS) umbrella.
Today, Hydratight Sweeney offer pipe fitter (PF) training courses on manual torque tightening ( ECITB unit PF010), hydraulic bolt tensioning ( ECITB unit PF018) and hydraulic torque wrenches (ECITB unit PF019). The courses can be undertaken individually or in any combination.
All courses place a strong emphasis on site safety, risk assessment and are easily integrated to reflect customer's local site procedures. In line with Hydratight Sweeney's drive for continuous improvement, courses are continually being enhanced most recently with the introduction of specific training sections covering small flanges and hand torque wrenches.
Hydratight Sweeney qualified trainers and assessors have over 50 years experience in the industry. Over 3000 delegates have undertaken theoretical, simulated and workplace competency assessments, either at Hydratight Sweeney bases around the world or at customer premises. Contact us now to arrange your course.